We are wanting to serve our community and are gathering information for a potential program.
Would you be interested in an After School Care Program for your child? We would love to have your input.
Please click HERE and fill out our questionnaire.
* This is not a registration and does not obligate you to participation in this program. *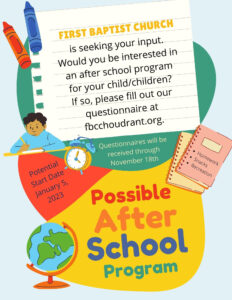 First Baptist Church gathers every Sunday.
We can't wait for Sunday!
Join us on campus as we worship, serve, and enjoy time together.
Coffee & Donuts – 8:30 am
Sunday School – 9 am (Nursery – Senior Adult)
Morning Worship Service – 10 am
Discover God By Doing Life With Others.
OUR MINISTRIES & WHERE YOU CAN SERVE
God's Word Changes Lives One Person At A Time.
LISTEN TO OUR SERMONS & TEACHING
You can access our live Sunday morning service or view past messages on our Facebook page. Click on the Facebook logo below.
You Are God's Hands and Feet To The World.
Connect & Gather
with Us.
FIND, CONNECT AND GATHER WITH US
Physical Address:
First Baptist Church
117 Oak Street
Choudrant, Louisiana 71227
318-768-2165
Mailing Address:
First Baptist Church
PO Box 217
Choudrant, Louisiana 71227
Join Us At Our Events
FOR LADIES ONLY!!
Join us starting March 7th at 6:30 pm as we begin a Ladies Bible Study
"Jesus & Women".
We will enjoy time together studying God's word and growing in a deeper relationship with Christ.
If you would like to participate in this study, please email fbcchoudrant@gmail.com.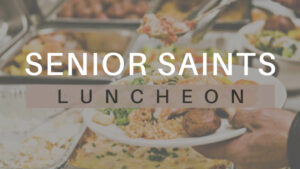 March 7th @ 11:30 am
Senior Saints Luncheon is BACK!!!
Senior Saints meet the first Tuesday of each quarter. Please bring your favorite covered dish to the luncheon and there is a $2 door fee.
Come enjoy time together in fellowship along with special guests.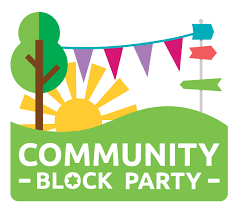 Sheldon's View Neighborhood on Hwy 80
Hamburgers, Bouncy Houses, Games, and so much more.
Join us as we enjoy time together in Sheldon's View neighborhood.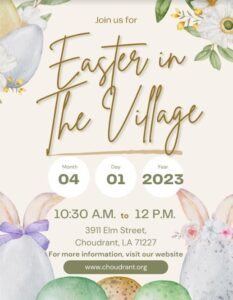 Stop by our table and say hello and grab a sno-cone. Then enjoy some games, an egg hunt,
get a picture with the Easter Bunny and soooo much more.
<><><><><><><><><><><><><><><><><><><><><><><><><><><><><><><><><><>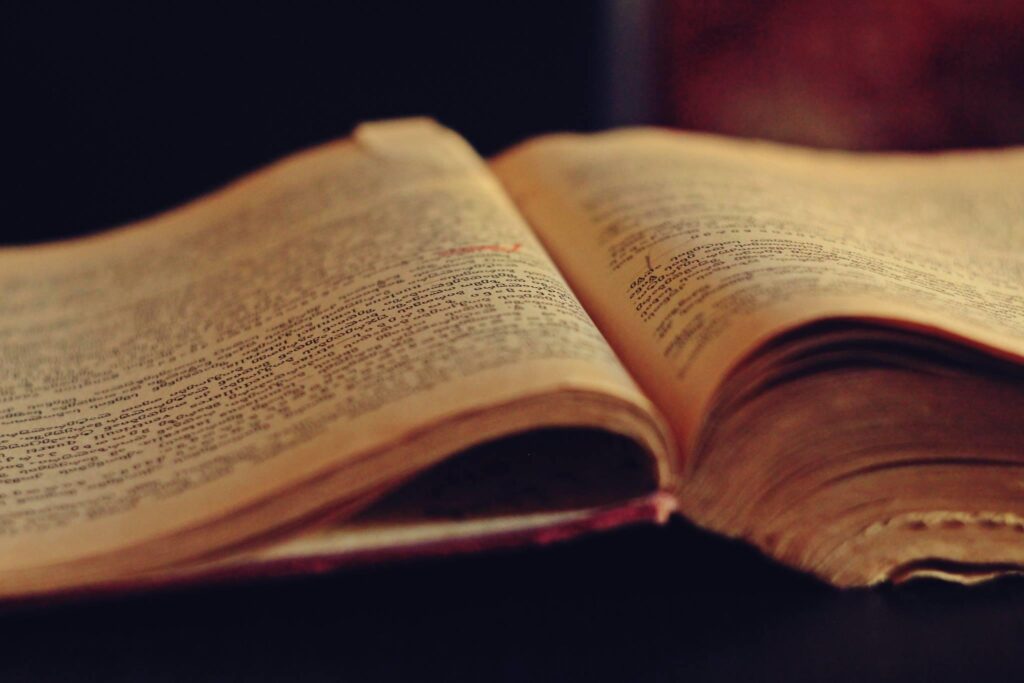 Wednesday Nights are Family Nights!
School is in session and our Wednesday nights activities are in full swing.
We have groups for the whole family!
Prayer Meeting for Adults & Parents – Family Life Center (Adult II Classroom)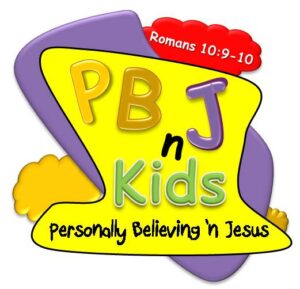 PBnJ Kids for ages 3 – 6th Grade (Family Life Center)
Youth Group for 7th – 12th Grade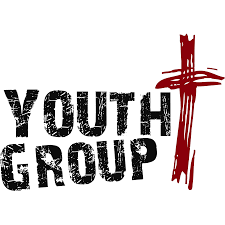 (Family Life Center – upstairs in the LOFT)
Come join us as we worship, pray, learn and grow together!